about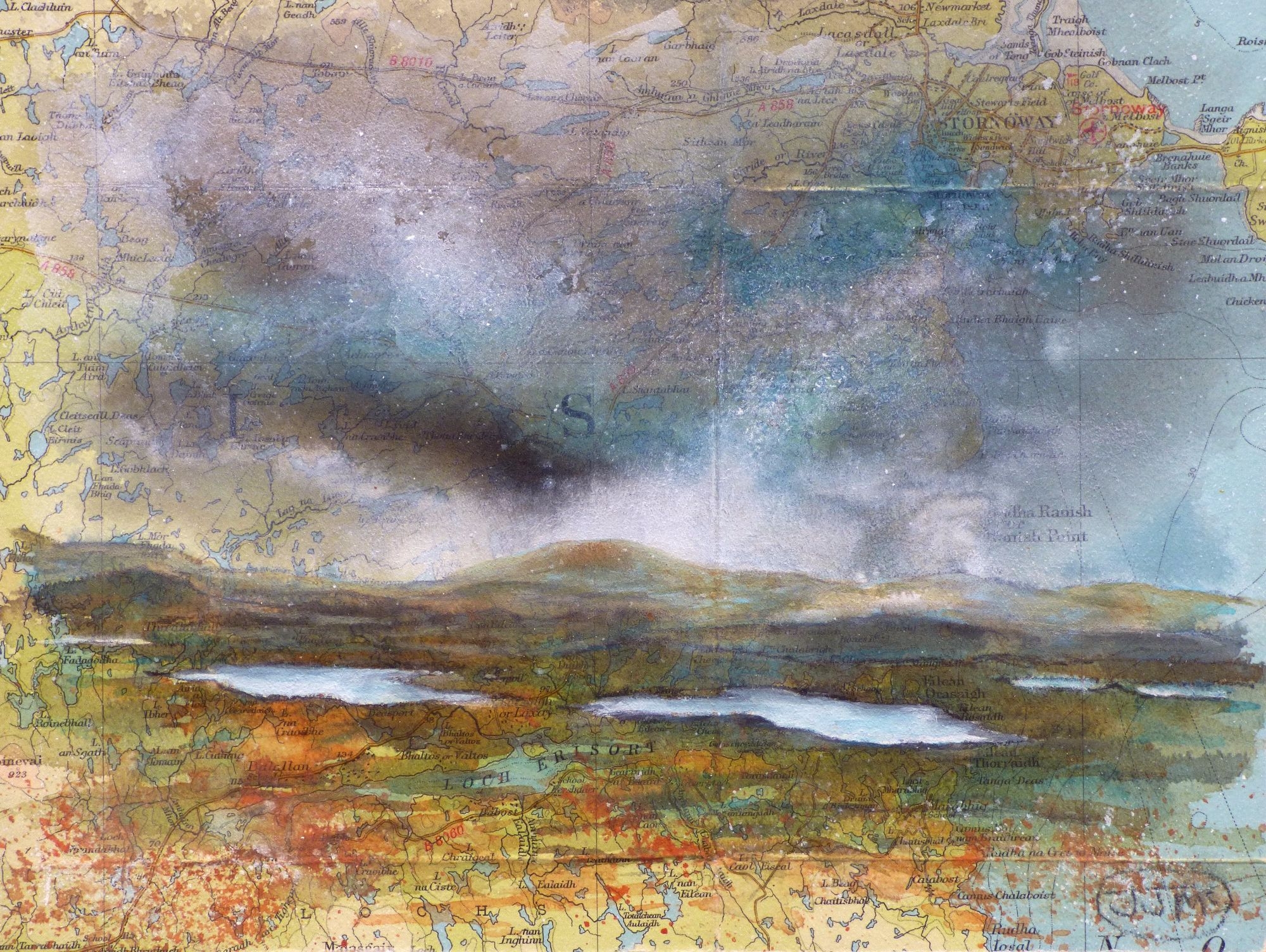 I use drawing, painting, photography and collage to explore and connect with my surroundings. When I go somewhere new, which is often, I get to know a place by walking. I meander, find vantage points, follow my feet and happily get lost and spend time soaking everything in- I pay attention to the effects of weather and the local geology, flora and fauna . Once I feel acquainted with a place I respond by making the work. Sketches, photographs and notes taken in the field are all referred to when I'm working in the studio, and some paintings are completed on location from direct observation. I try to depict my experience of "being there" and strive to produce an image that holds an emotional response to a specific place.
I use mainly watercolour and gouache paints and acrylic inks with other mixed media, working on watercolour paper, wood panel or collaged surfaces. I particularly like working on old maps of the areas I visit. There's an interplay between the map and the washes of paint obscuring or revealing it that produces an intriguing image. It draws the viewer in to look closer at the details that mirrors how I look at landscapes.
I live in the Lake District but I was born and lived until recently in Scotland. I head north regularly on painting trips in my camper van and return to the West Coast and Scottish Islands whenever possible. The proximity of the sea and mountains and the wildness of it are irresistible.
I have a BA in Fine Art (2006) and have exhibited work nationally and internationally. I was artist in residence 2013/14 at the Highland Wildlife Park (Operated by the Zoological Society of Scotland) and artist in residence for the North York Moors National Park (Mirror Images Project) 2014/15.
My work is exhibited at the Castle Gallery in Inverness and is also available to buy direct from this website, please visit my shop to see what's available. I often share work in progress on my facebook page and instagram - you can find out more about my day to day working methods by following me there.